About
Crafted From Disparate Traditions.
The øther honors the complexity of multicultural roots, the stories of where we come from, and to celebrate individuality and dynamic identities boldly.
The brand explores the dynamic relationship of cultural identity and personal style through clothing and storytelling. This collection is a homage to the experience of first and second generation immigrants, third culture individuals and people existing in-between multiple cultural identities in America.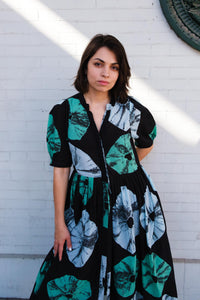 Creative Founder
Nyla Hasan
Nyla Hasan is the founder and Creative Director of the øther. Curiosity, nostalgia, and craft is what drives how she creates. She considers herself a maker across various disciplines in and outside of fashion. Inspired by her mixed South Asian roots, she attributes much of her inspiration to her heritage where she aims to present old world crafts in untraditional ways. Nyla investigates the connection between us transcending borders, where we find belonging, and expanding the narrative. Most of her life she had felt like an "other", the tension between these two polarizing identities she learned to find beauty in the between and seeks to connect with others who find themselves in this same space.
"
I want to see everyone embrace their unique identities and flex — no matter your cultural codes.

"